There is nothing quite like swimming in the ocean to be amazed by the creatures that live there; for instance, the eccentric sand dollar gives you a glimpse of what lies beneath it all. As well as being known as a biscuit urchin or sea cake, the eccentric sand dollar is a very unique underwater creature. There are several species of sand dollars, and the eccentric sand dollar is among the most common.
As common as it is, the information we have about the species is limited and often confusing. To make you aware of the attributes and characteristics, the article presents you with the eccentric sand dollar fact and information guide. So, stay with us and continue to read as we explore all about the species.
Eccentric Information Guide
The Eccentric Sand Dollar is a trampled, burrowing sea urchin mostly present in the northeastern Pacific Ocean and is often washed up on beaches.
Scientific classification
| | |
| --- | --- |
| Kingdom | Animalia |
| Phylum | Echinodermata |
| Class | Echinoidea |
| Order | Clypeasteroida |
| Family | Dendrasteridae |
| Genus | Dendraster |
| Species | excentricus |
Physical attributes
Purple, black, or brown shades are common in their appearance, and after death, a gray or white skeleton is revealed.
There is a great variety of sizes of eccentric sand dollars, but their average diameter is 70-90 millimeters. There is, however, a specimen that measures 120 mm wide that is the largest known specimen. Their overall size is small, and they usually weigh not more than one ounce.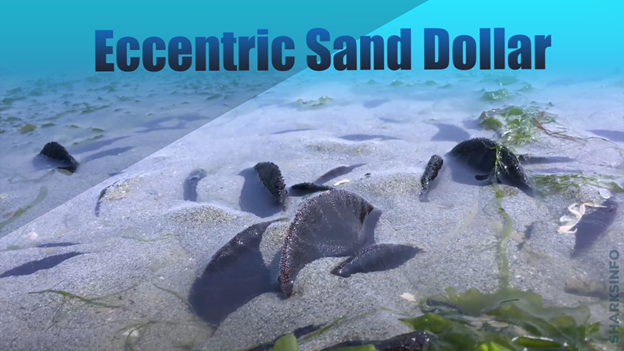 To the touch, live sand dollars are fuzzy or velvety because they are covered with tiny hair-like cilia that give them their fuzzy or velvety texture. There are spiny, tube-like feet covering the body. These are technically spines but are soft and not dangerous.
It is as if the sand dollars are lying flat on the ground while they move, the adult with the help of their spines, whereas the young ones use their tube feet.
Habitat
A majority of them live in subtidal bays, coastal open areas, or low intertidal zones on sandy beaches in the Northeast Pacific Ocean. There are areas where they can live as deep as 90 meters, but they are generally found in shallower waters.
Diet
Most of their diet consists of larvae of crustaceans, copepods, detritus, diatoms, and algae.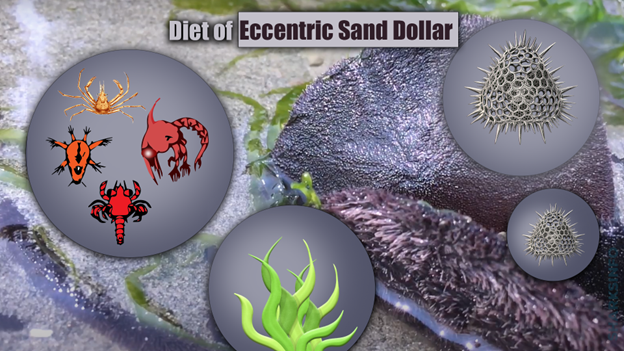 Reproduction
No obvious differences between the two sexes can be observed in their external characteristics. A female and male release gametes into the water simultaneously, a phenomenon known as broadcast spawning. During the spring season and the start of summer, they hatch after reaching sexual maturity between 1 and 4 years of age. Due to the simultaneous release of several hundred thousand eggs, the larvae hatch in just over a day after fertilization. The average gestation period lasts for 28 hours.
Lifespan
There is a possibility for an eccentric sand dollar to live to the age of 13 years; however, the average life expectancy is 10 years. The old age factor is the most prominent cause leading to their death.
Conservation status
The sandy seafloor is a valuable resource, but habitat loss is affecting the population. However, there is no conservation effort currently underway for this species since it is present in large numbers.
Eccentric Sand-dollar Facts
Approximately five teeth-like sections are present in the sand dollar's mouth, which grind up tiny plants and animals.
It can take a sand dollar two days to digest food after chewing it for 15 minutes before swallowing.
There can be as many as 625 sand dollars on a square yard half-buried in the sand.
Most of the bodies of eccentric sand dollars are skeletal. There is a small amount of soft tissue on their bodies.
Conclusion
The eccentric sand dollar is a small, flat sea urchin that is found in the sandy shallows of the ocean. Its body is shielded by small bristles and is white or pale in color. It has a five-sided body with a central disk which is covered in tiny pores that help the sand dollar to breathe and feed. It eats small bits of algae and other organisms that it finds in the sand.