In this advanced era, so many people all around the world are adopting snorkeling as a part of their hobby as it permits individuals to behold the underwater beauty and life. Nonetheless, It is also considered a physical recreational activity with a full body exercise engaging your arms and legs. It gives exposure to the eye's captivating diversity of colors, and animals are dazzling, which attracts people to snorkeling. That is why nowadays people love to snorkel.
As we know, there are a huge number of beaches, but not all of them are suitable for every water sport. Knowing and choosing the right spot for snorkeling can provide a better experience. Though snorkeling is all about having fun, being safe is again the top priority. Similarly, if you are searching for a beach suitable for snorkeling, several things should be kept in mind, such as the water should be clear because protected and pleasant snorkeling relies upon underwater perceivably.
Is It Safe to Snorkel In Myrtle Beach?
Myrtle beach is one of the most well-known beaches in South Carolina. It has a delicately slanting shore along with a sandy surface and warm water. It covers a wide area of sandy beach, which is convenient for some water sports. It is possible to snorkel on this beach but in specific spots which are easily accessible by boats and offshore. In some areas of this beach, the water is so murky, which does not make it an ideal place to visualize marine life.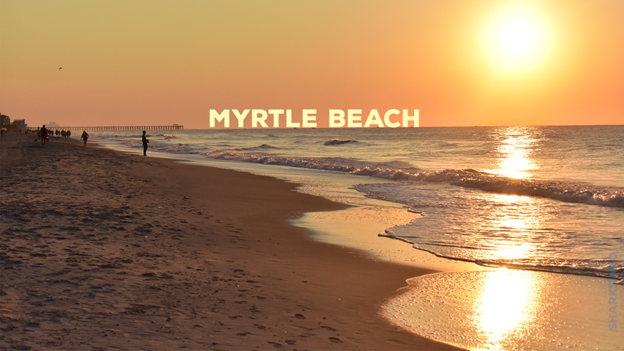 Challenges
Similarly, for a safe snorkeling experience, underwater visibility is one of the most important factors that cannot be neglected at any cost. Due to the change in the flow of water and tides in the ocean around this beach, Snorkeling can sometimes be dangerous because of less visibility. The flow of water blends sand and silt in the water, which hazes your view beneath the water, and the waves of water can also obstruct visibility by making it more troublesome.
Simultaneously, water activity is genuinely moderate; waves seldom surpass 3 to 4 feet, making circumstances appropriate for snorkeling, yet the perilous water condition cannot be ignored as there are sharks, black tips, and spinners lurking in the sea and can attack at any time.
However, Myrtle beach is not unattainable for snorkeling completely, as there are some specific suitable spots for snorkeling along with guidelines. On a beach like Myrtle, hiring a guide would be a better decision to make your experience exciting and safe as well. Guides are experienced people who are much aware of the place and the creature prowling in the sea; they can deal with the potential threats in a better way.
Final Thoughts
Myrtle beach can be notorious for snorkeling as it has murky water and is certainly not known as a chief snorkeling spot. Despite the hazardous flow of water, snorkeling is not something impossible here. If you really wish for a satisfactory snorkeling experience at this beach, you must go ahead to one of the offshore dive places that are shallow enough to be pleased with. However, snorkeling can be done feasibly with appropriate guidance and supplies.